PERIODICAL EPA AUDITS IN THE NETHERLANDS BY TOTAL ESD SOLUTIONS
Several different kinds of electrostatic protected areas (or EPA's) exist. It reaches from clean room configurations to large scale manufacturing halls. The quality and the reliability of an EPA are guaranteed by periodical audits. These are preferably conducted by an independent 3rd party. Total ESD Solutions has more than 20 years of experience in performing ESD measurements and is an internationally certified ESD specialist.
The value of the findings report
An EPA holds numerous materials that are subject to wear. To monitor potential degradation is of uttermost importance. After the audit by ESD Solutions, you receive an overview of the state of your materials. This is not just of interest to your company, but it also to your clients. With it, they verify if your company holds the adequate surroundings for proper assembly of their required product. Periodical audits can be part of your quality plan, conforming to the ISO certifications. Total ESD Solutions is equipped to conduct measurements within and outside clean rooms, production spaces and warehouses.
MAKE AN APPOINTMENT FOR AN AUDIT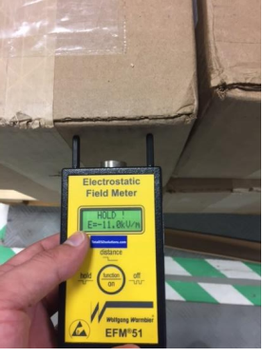 Building or reconstructing EPA's
A construction project involving an EPA (Electrostatic Protected Area) starts with drawing up and checking the set of requirements. Subsequent changes to an EPA are expensive and sometimes even difficult to realize. Total ESD Solutions guides you in drawing up requirements for new or renovation of electrostatic safe areas, both within and outside the cleanroom.
Also consider inspections of ESD preventative measures in ATEX zones!
Interim inspections prevent problems that make costs uncontrollable. This way you will have availability of the new or renovated ESD safe space sooner and at the lowest cost.
Do you have questions about the practical design of your EPA or are you concerned about the suitability of the selected materials? Do you have doubts about measurement results and do you want a second opinion?